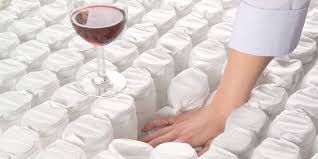 Pocket coil mattresses have been around for long time.  If a mattress has any steel or springs in it Leggett & Platt probably manufactures it.  They make almost all the spring and steel for bedding in the USA.  So when you see one of the name brands advertising how great their mattress is remember……  it's not only the 5 brand names who have them but also the other 400 plus mattress makers in the USA.
The pocketed coil was introduced back when Tempurpedic came out with the wine glass commercial and "no shake" mattress.  L&P came up with a way to make a coil mattress with little to no movement.  For 15 years they offered the 750 coil count for the low priced mattress and the 850 for the higher quality.  There is a cloth pocket or sock over each coil which helps eliminate motion.  In October 2014 they introduced the "quantum edge" pocketed coil series.  This system offer 950 coils.   The 750 and 850 coil count mattresses have "foam encasement" (polyurethane foam along the edges with the coils dropped in the middle).  The new 950 quantum edge pocketed coil system adds an additional row of coils along the edges and without the foam edge.  L&P claims that this extra coil along the perimeter helps avoid "roll off" on the edge along with extra edge support.
 (Steel costs more than poly foam) (The more foam a manufacturer puts in a mattress and the less steel, the more profit)
These new 950 coil count mattresses feel amazing.  They offer a very high luxury feel along with great comfort and support.  The manufacturer then decides what type of foam that will be placed on a particular mattress whether it be poly (gel) or latex.
We show 3 different versions of the 950 coil count in our showroom.  We don't offer the 750 or 850.  Why would we when we our goal is to offer the very best quality?
Our prices start at $650 for a queen set and up to $1050 for the very finest latex queen set.  (That's a crazy low price when you consider that most mattress stores sell the 850 coil count for $2,000 – $4,000).
Come in and try ours before you buy!  If you live somewhere other than Charleston South Carolina, make sure you find out which system you are purchasing.  Email or call me with any questions or comments.